How Much Should a Dental Practice Spend on Marketing?
Marketing Budgets for Dental Practices
Dental practices often wonder what an appropriate marketing budget is for their practice. How much should they spend? How much are their competitors spending? How much do they need to spend to grow their practice and keep it profitable?
Each practice has unique financial situations, goals and local markets. However, all dental practices have a need to acquire high-quality new patients and maximize recurring revenue from these patients.
Several statistics help dental practices to understand the numbers that drive new patient acquisition:
Dental practices lose 15-20% of their patients every year
Most dental practices need to acquire 20-50 new patients per month to maintain the patient load and basic growth of their practice
Referrals are declining as digital marketing and online reputation management increases in importance
The cost to most dental practices to acquire a new patient ranges between $150–$300 per new patient
The typical new patient spends an average of $700-$1250 in their first year. The average patient's spend is $1000.
Patients will usually remain at the same practice for 7-10 years
The typical lifetime value of a new patient is between $7000 to $10,000
Creating a percentage-based budget
Dental practices require different marketing budgets in different stages of their life cycles. Some estimates for these different life stages include the following.
New dental practices
New practices have significant overhead and debt to service. Attracting new patients quickly allows them to start paying their loans and bills. Most dental business experts recommend spending 20% of projected gross revenue on marketing for a new practice. How much you need to spend depends on your local market. For example, if you are in a large city or if your practice is facing strong local competition and you need to make a big splash, 30% might be your benchmark. On the other hand, in areas where there is little competition, 20% is acceptable.
Your first marketing campaign is an important one and you'll want to create an impact that will reach as many people as possible in your community. A website that attracts patients, search engine marketing and paid advertising are important marketing tactics to implement. Search engine marketing offers one of the best returns on investments of any marketing tactic. Search engine optimization (SEO) does require time and investment for a new practice to see results; however, the payoff is significant. Once you are at the top of the search engines with a great online reputation you'll see a steady flow of new patients that will make your new patient acquisition much easier. In the meantime, pay per click ads will ensure you show up at the top of the search engines so that new patients can easily find you, right from the moment your practice opens.
Make sure you invest a decent portion of your startup funding towards a strategic marketing program that puts you on the map. Great listings in the search engines and paid search advertising campaigns can kickstart the flow of new patients into your practice. Once you are firmly sitting at the top of the search engines, you'll see a constant flow of new patients and revenue. SEO offers the best return on investment of any marketing tactic if you get it right.
Established dental practices that want to grow
There are many dental practices that want to grow but find it difficult to attract enough new patients every month to meet their growth goals. Their current digital marketing or website isn't performing as well as their competitors. They want to grow to one or two million dollars in revenue. They may also be interested in adding associates. They recognize that showing up everywhere online when someone is searching is essential to generate the additional 20-50 new patients they need every month to meet these goals.
To fix the issues and start achieving satisfactory results, these practices should look at spending 5-10% of the gross revenue they are aiming for. An SEO program requires 6-12 months to gain traction if it's being done in a sustainable fashion that will bring long-lasting and effective results. It's often important to redesign your site to modern standards that will improve your SEO and the promotion and positioning of your practice. In the short term, it's essential to use Google pay per click ads that place you at the top of the search engines because that direct investment will lead to new patients quickly and effectively while you wait for SEO results.
You can also break down the revenue growth you'd like to see in your practice. If you want to grow your practice by $120,000 in revenue for the year, you'll need to acquire 120 new patients who bring in $1000 per year. That means 10 extra new patients per month. The average cost of acquiring a new patient is $100 to $300. If you want 10 extra new patients per month, be prepared to spend an additional $1000 to $3000 to acquire them. Some dental practice managers expect to be able to spend a few hundred dollars a month to get 10 new patients, which would be a 500% ROI, which just isn't achievable by any marketing method. It's a cliche, but you need to spend money to make money. The long-term payoff is worth it.
Dental practices that have plateaued or are shrinking
Established practices need to attract new patients including younger patients and families so they can replace patients who fall off. In this case, it's best to look at the revenue they'd like to see and work on a budget of 5-10%. In the short term, you may want to bump up your marketing budget to invest in a few marketing assets like a new website. Many practices are shrinking or stagnant because they lack the marketing programs and assets like a good website. Underinvesting in marketing can result in stagnation or a shrinking of a dental practice, particularly if your competitors are aggressively marketing.
What does a typical marketing budget for a dental practice look like?

What are other practices spending? 54% of the dentists in a Wealthy Dentist survey reported spending $1,000 or more a month on marketing, while 22% spend in excess of $5000, and 6% do not spend anything on marketing.
| | |
| --- | --- |
| Yearly Practice Revenue | Marketing budget per month |
| $2,000,000 | $8500 to $11,500 |
| $1,500,000 | $6000 to $9000 per month |
| $1,000,000 | $4000 to $6000 per month |
| $750,000 | $3500 to $5000 |
| Less than $500,000 | $2000 to $2500 |
Here's the breakdown on monthly marketing spend:
One outlier reported spending $80,000 per month on marketing for a prosthodontic and orthodontic practice in Texas. Practices focused on cosmetic and implant dentistry stated they had to devote large marketing budgets to acquire the new patients they needed.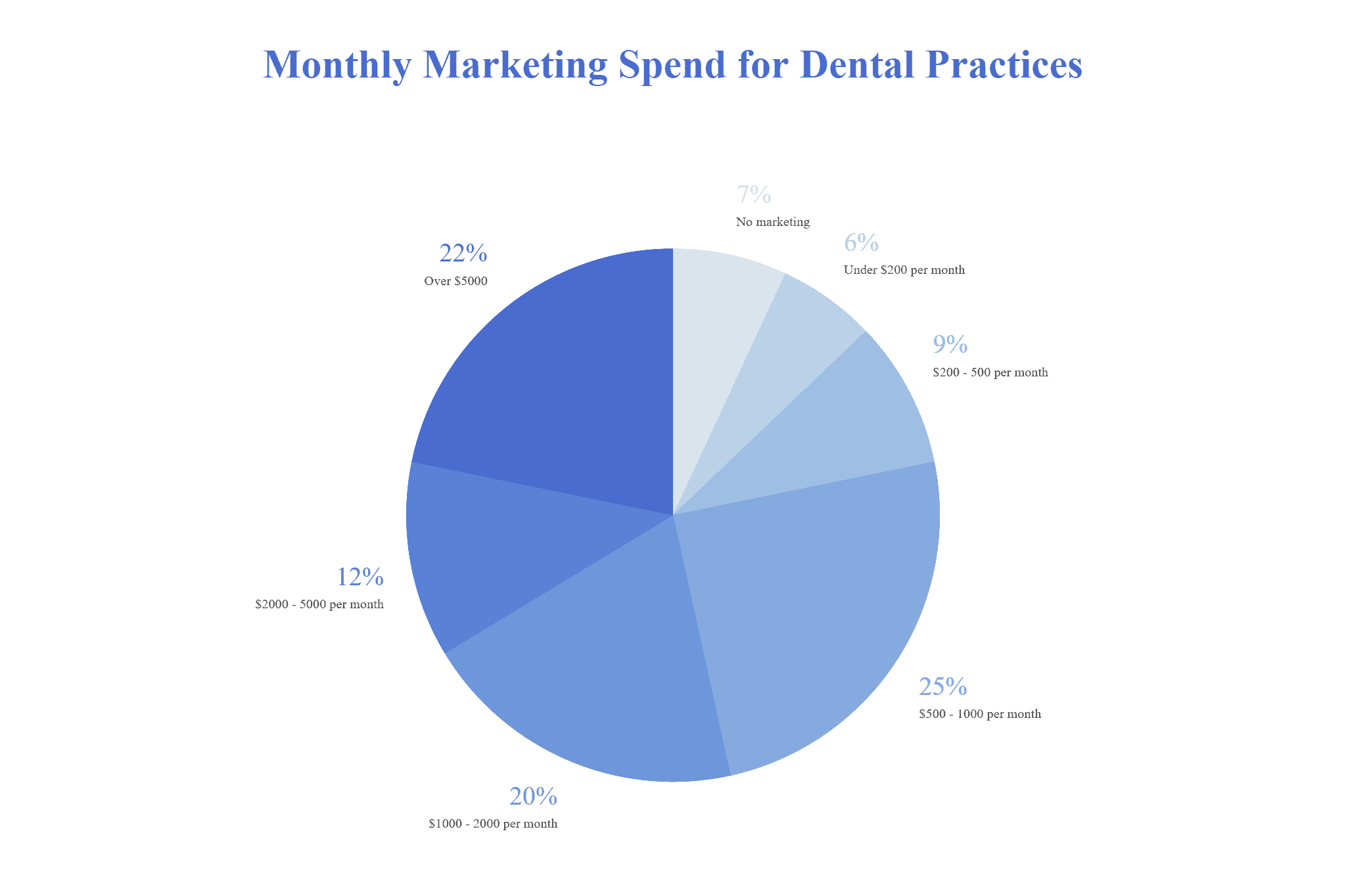 Best marketing tactics for dental practices
Consider your website as your virtual office. You've invested a lot to create a professional and welcoming environment for your new patients. That same aesthetic should be reflected on your website. Most marketing roads lead to your website, so your website should be built to attract and convert new patients. The most profitable marketing channels for acquiring new patients are:
Search engine optimization (SEO)

Pay-per-click advertising with Google Ads

Social media marketing

Direct mail campaign to a local area – postcards

Targeted brand-building advertising for high revenue practices in print media
Here's an example of potential budgets for the different marketing channels, depending on a practice's revenue or revenue targets:
| | | | | | | |
| --- | --- | --- | --- | --- | --- | --- |
| Yearly practice revenue | Marketing budget per month | SEO | PPC | Social Media | Direct Mail | Print Ads |
| $2,000,000 | $8500 to $11,500 | 3000 | 3000 | 2000 | 500 | 1500 |
| $1,500,000 | $6000 to $9000 per month | 2000 | 2000 | 1500 | 500 | 1000 |
| $1,000,000 | $4000 to $6000 per month | 1500 | 1500 | 1000 | 500 | 500 |
| $750,000 | $3500 to $5000 | 1200 | 1200 | 500 | 500 | 500 |
| Less than 500,000 | $2000 to $2500 | 1000 | 750 | 400 | 250 | 0 |
Ultimately your marketing budget should be determined by the competitiveness of your market, your growth goals, and your budget.
Marketing is an essential part of any successful business. In order for dentists to see consistent growth, they should see 24-50 new patients per month coming through their door. Dentists can use the general figures listed above as a guide to determine how much they should be spending on marketing, but the figures should be interpreted for each unique practice. Do your research, talk to your accountant and run the numbers. You can also contact us for a strategic review of your practice and competition. We're happy to prepare a detailed audit of your practice and your competitors at no charge.
To successfully generate new patients to cultivate a thriving practice, marketing needs to be planned and strategic. You'll need to include marketing tactics like an effective SEO/PPC program, direct mail, social media, and social media advertising.
You will see growth and return on marketing investments if you spend the right amount of money on the correct services. Good luck and we wish you great success in your practice!
Guide to Dental Website Design
Subscribe and download our ebook that covers everything you need to know to build an incredible website for your dental practice.