About Pediatric Dental Associates of Randolph
Dr. Aaron Mannella founded Pediatric Dental Associates of Randolph in 1991. He is Board Certified in Pediatric Dentistry and a Diplomat of the American Academy of Pediatric Dentistry. Dr. Mannella is highly respected in his field. He is the chair of Pediatric Dentistry at Morristown Hospital where he donates his resources performing dental restorations on patients who could not otherwise afford treatment.
Pediatric Dental Associates of Randolph Mission Statement
Our mission is to provide the highest quality pediatric dental care in a state-of-the-art, comfortable, calm and child-friendly environment. Our goal is to start every child off on the right path to a lifetime of good oral care. This commitment is forefront in everything we do at Pediatric Dental Associates of Randolph.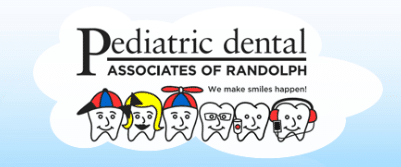 Practice Goal
SEO
Dr. Mannella employed firstdentist.com to enhance the overall visibility of the practice online. This included improving local and organic search rankings, strategic placement of ads and generating online reviews. The goal is to increase traffic and generate a return on investment for marketing spend.
What is SEO?
Search engine optimization (SEO) increases the visibility of your website in search engine results. As your web marketing specialists, the team at firstdentist.com will leverage the latest dental SEO tactics to improve your website with the goal of increasing the volume of high-quality visitors.
Pediatric Dental Associates of Randolph
SEO Case Breakdown
Our Professional Opinion
firstdentist.com's main focus was increasing visibility on the first page of Google's search result page. To ensure visibility, we broke our strategy into five key deliverables;
Local SEO
Organic SEO
Pay Per Click Advertising
Acquiring reviews
Call tracking
For local services like dentistry, it's essential to rank in the Local Maps with an excellent review rating.
"We have been working with firstdentist.com for a few years now. Michael and Ross and the whole team at firstdentist.com make all this S.E.O. and P.P.C. seem E.A.S.Y!!! We as dentists don't have time to figure out and implement this other important aspect of running a practice which is why we are so fortunate we found these guys!"
1 Call Tracking
Analyzed the major areas of potential growth then applied metrics to desired search engines such as Google, Mobile, Maps, Yahoo, and Bing.
2 Proven Local
Analyzed Pediatric Dental Associates of Randolph's online authority – Our team wanted to communicate the excellent experience of existing patients and enhance their online reputation.
3 Pay Per Click
We researched Pediatric Dental Associates of Randolph's rankings on Google. firstdentist.com then crafted a strategy to maximize the number of times they were seen on the first page.
Note From Our Founder
Ross Dunn
"We are thrilled to work with Pediatric Dental Associates of Randolph because they are clearly a leader in their profession with an outstanding quality of service; two key qualities that make results more likely! As a result, along with clearing up some key optimization issues and focusing efforts on improving their online authority, we managed to improve their online exposure significantly and increase the number of inquiries they received. We continue to solidify their lead in their marketplace and look forward to working with them long into the future."
Ross Dunn is the founder of an SEO and web marketing company started in 1997. In 2014, Ross joined forces with firstdentist.com. Ross has provided SEO and consultation services for the likes of Time Inc. Interactive in NY, Johnson & Johnson, Pfizer and hundreds of reputable smaller businesses. His SEO 101 podcast is one of the top rated podcasts in the digital marketing industry.
At firstdentist.com we support search engine marketing organizations involved in developing an industry-wide SEO code of ethics.
Customer Actions on Google My Business in One Quarter
Pediatric Dental Associates of Randolph currently show four results on the first page of Google, making the practice four times more likely to be clicked on.
From May 2017 to May 2018 we have seen an 18.6 % increase in organic search traffic.
Direct Traffic sessions increased by 116.54 %. This can be largely attributed to Google My Business visits which are tracked as "Direct Traffic" in Google Analytics.
732%
Pediatric Dental receives 732% more views on their Google My Business account photos than similar businesses every month.
The Power of Google Maps
Maps views are often overlooked when trying to improve local SEO. Pediatric Dental Associates of Randolph maps views almost doubles their listing on Search.
How customers search for Pediatric Dental Associates of Randolph – Direct Search vs. Discovery
Results
The focus of the work for Pediatric Dental is on Local Map SEO and Organic SEO rankings. For local businesses, it's essential to rank in Google Local Maps results with an excellent review score. By implementing our case breakdown for this client, we were able to rank them #1 in maps and in search, while featuring select ads in Google Local Maps and AdWords. This is ideal visibility for a dental practice.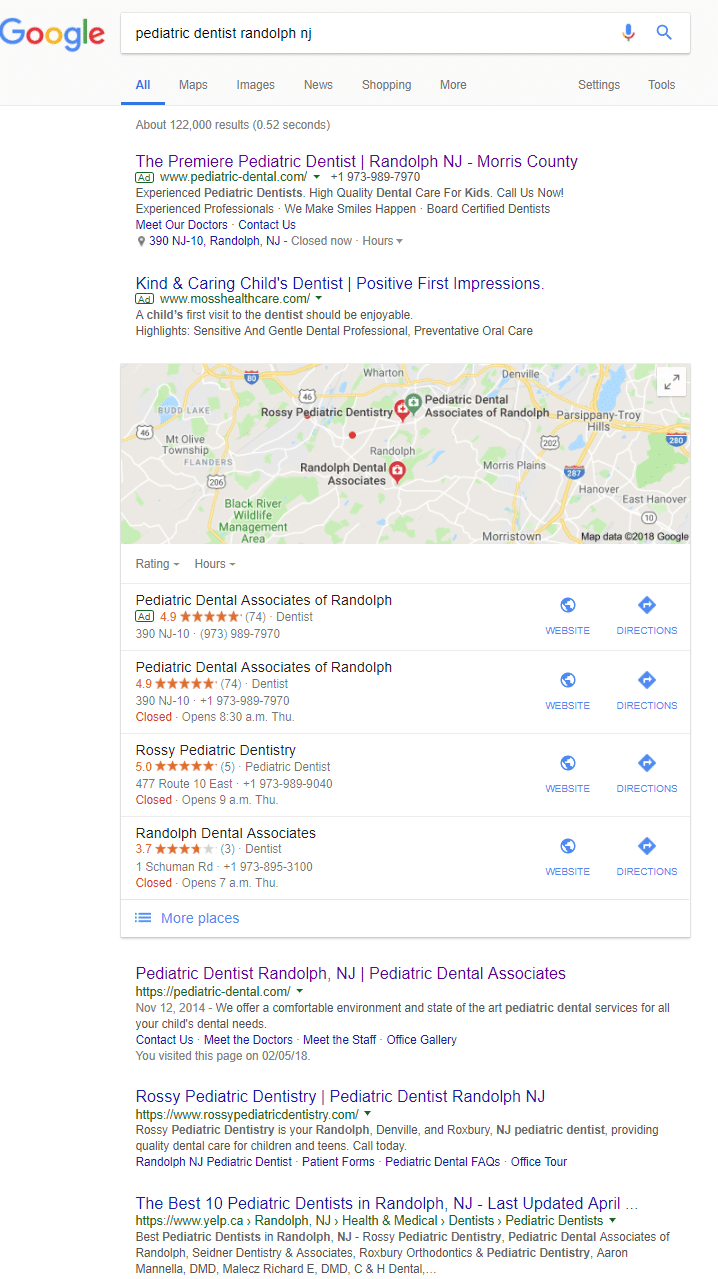 Contact Us Today
Contact us today for a free assessment of your search engine presence. We'll review your practice and two or three of your competitors to give you a complete overview of your local search market and a strategy to dominate it.
SEO takes time to improve results.
The image shows results as of April 2018. By holding four spaces on the first page of Google they are more likely to see a quicker return on investment while increasing the rate at which they see new clients.
Dramatically improved rankings have translated into better visibility in the search engines, more new patients, and increased practice revenue.
By implementing our case recommendations for this client, we were able to rank them top in maps and in search, and showing useful ads.
Years of Dental Web Design
Download our Dental Website Guide
This ebook includes:
What new patients really want
How to rank in Google
Essential features and content
Website security
HIPAA compliance
We value your privacy and will never sell or rent your email to anyone.