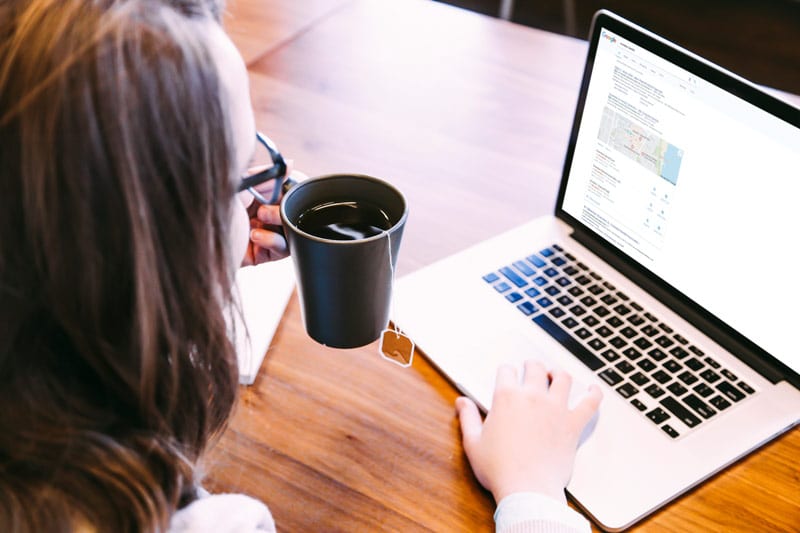 Join our top ranked dental practice club!
A dental practice's website and search presence is essential for success in today's competitive dental market. Dentists can no longer avoid marketing their services online. 80% or more of your ideal new patients begin their search online for a new dentist. Where do most people start their search? Search engines like Google and Bing. If you don't show up in the Google Local Maps section, AdWords or at the top of organic search, new patients won't even know you exist.
Local SEO for Dentists
First Dentist has over 20 years of SEO experience, Ross Dunn, our CEO, has been doing SEO since 1997. The focus of First Dentist is on local SEO. Local SEO is different than regular SEO for brand or product search results. There are different SEO techniques used to rank in local search that many SEO companies do not understand.
For local services, it's essential to rank in the Local Maps results with an excellent review score. First Dentist has developed expertise in helping practices rank in the local search results and developing a stellar online reputation.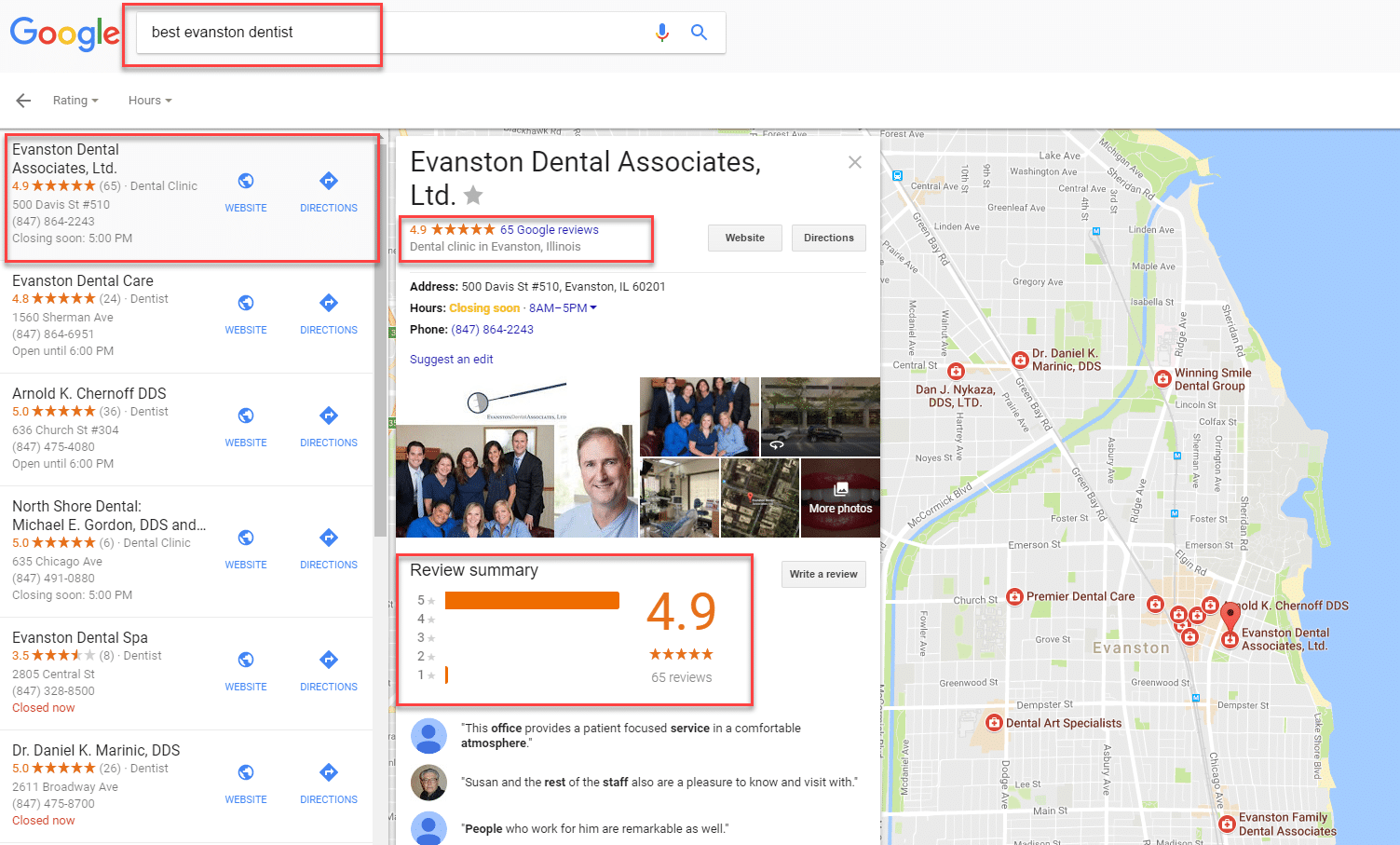 Are You a Three Or Five Star Dentist?
Reputation management is an essential part of practice management and digital marketing including SEO. First Dentist believes that reputation management for dentists is essential for SEO and converting searchers into website visitors and new patients. We believe it's so important, we've included reputation management software as a part of every SEO package we sell!
Ethical SEO Services
Search engine optimization (SEO) increases the visibility of your website in search engine results. As your web marketing specialists, the team at First Dentist will leverage the latest dental SEO tactics to improve your website with the goal of increasing the volume of high-quality visitors. Our SEO process for dentists includes these steps:
Keyword Research and Analysis
Using tried and true SEO tools we will discover the search terms your prospective patients are using to find a dentist in their area. Once we have this information in hand, we will sort it by priority and use it to inform the optimization of your website's pages, the words used in new articles and posts on your site, and any further web marketing done on your behalf; such as paid ads.
Quality Content
The text on your website is critical to keeping visitors on your website and converting them into patients. In addition, search engines use the content to help determine the purpose of each page, the value, and whether the page should rank highly for the keywords related to the page. As a result, we need to ensure the content on your site is written using the best of both worlds; great content and dental SEO.
Copywriting and Link Attraction
Depending on how competitive your local market is, we may need to help you create additional content on a monthly basis. This content will be written by a professional copywriter with the aim of providing useful information for prospective and existing patients to read and share with friends and family. Over time, great content leads to people linking to your content because they find it interesting or useful; we call this link attraction. Through shares and link attraction, your dental site's authority will build and soon stand out from the rest of your competition.
Tip: This same content can be used in a newsletter, and for sharing across social properties if you so desire (like Facebook, LinkedIn, Twitter, etc.). Our goal is always to milk as much benefit as possible out of every marketing dollar and/or time you spend.
Citation Building
Your clinic serves a local area and Google needs to be certain your dental business exists at that location and is a genuine business; you wouldn't believe how many companies try to cheat Google. As a result, Google looks for trust signals such as evidence from 3rd party websites your business indeed exists and at the address you specified. A part of our dental SEO service includes building these citations and correcting any incorrect citations your business already has.
For example, say your business is listed on Yelp but the address is off by a single character/digit or uses different wording (suite vs. unit). In this situation, we need to make a correction so the business Name, Address, or Phone number (also known as N.A.P.) is consistent across every 3rd party site while adding your business to other sites we know Google checks. All-in-all, this presents Google with a more cohesive and trustworthy image of your business – which leads to a greater chance of high search engine rankings.
Ongoing Dental SEO
99.9% of the time dental SEO needs to be an ongoing process and not a one-time effort. A dearly departed friend of ours said you have to consistently earn your success on Google and we couldn't agree more. Once your site achieves top rankings your business will need to build its authority regularly and consistently in order to maintain rankings in the face of growing competition and changes in search engine technology (Google makes literally thousands of updates per year that could affect your rankings). Our job will be to handle all or part of that service on your behalf. What that will entail, generally varies but often includes the following:
Dental SEO for new content as it is added to the website.
Tweaking the content on pages to increase search engine rankings (where possible)
Keeping our clients up to date on the latest search engine marketing techniques and ideas that could be applied to their business/website.
Transparently reporting our results in monthly reports and quarterly meetings.
Continuing to build citations and monitoring existing citations to ensure they remain viable.
And more when necessary (for example: paid advertising on Google and Facebook)
Reputation Management
First Dentist includes the incredibly valuable Proven Local software with every SEO package it sells. Proven Local will make it easy for you solicit positive reviews and get your patients to post them online. A great online reputation is an essential part of every practice success story.
Dr. John Sparaga, Orthodontist
Clear Smiles, AK
"First Dentist did a wonderful job creating a cohesive, easily navigable, well-designed site from scratch that is now listed at the top of Google searches."
[/db_pb_team_member]

Dr. Larry Frankel, DMD, MS
Cleveland, OH
"First Dentist goes the extra mile to satisfy their customers and puts their all into the project."
[/db_pb_team_member]
Dr. Ed Kwan, DDS, MSD, PS
Seattle, WA
"First Dentist made the process simple, straightforward and a lot easier than I thought it would be."
[/db_pb_team_member]
Years of Dental Web Design
Start Attracting New Patients Today
Schedule a free strategy consultation for a review of your website, competition and local market. You'll walk away with a complete roadmap to start attracting new patients online.